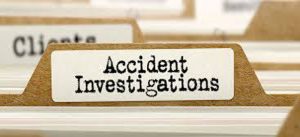 Work Health & Safety Australia Consultancy is pleased to offer a full range of accident and post incident investigation services. Following a workplace Accident or Incident, a comprehensive Investigation assists in revealing deficiencies within the workplace safety system, equipment involved, or the behaviour of relevant workers. An investigation assists in highlighting the inherent (and potentially numerous) causes of an incident, as well as indicating the potential risk for similar accidents to take place in the future. By incorporating preventative strategies into our investigation reports, organisations and safety professionals are able to comprehensively review safety strategies and implement compliant improvements to prevent similar events from re-occurring.
Our safety consultants offer a range of investigative services to suit your business needs. Comprehensive post incident investigations can assist in minimising insurance claims, regulatory fines, worker rehabilitation, and the risk of similar incidents occurring in the future. The depth and scope of an investigation is dependent on the seriousness and/or complexity of the incident and workplace.
Our experts will work with your business to incorporate the most effective investigation method, and determine a procedure for implementing preventative strategies. We can train your personnel in managing basic investigations, or have one of our highly skilled experts assist in large and complex incidents. To discuss your workplace investigation options please contact our experts for further information.